Yes, we cover some amazing costumes and ideas in this website but we also look at easy fancy dress ideas for kids. This includes accessories for costumes and homemade themes. But don't worry if you have ten minutes to prepare a costume we have the ideas which will save you from a fancy dress disaster.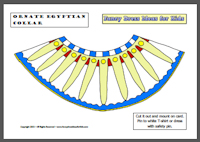 One of the things we provide are FREE sheets which you can print out and use to emphasis the style of your fancy dress costume. Here is an example of one of the sheets. This is a decorative Egyptian collar you can print out, stick on card and then pin to a white t-shirt.
Group Fancy Dress Ideas
We cover a whole range of group fancy dress ideas in this section so that you and the family or friends can be themed for the party. From super hero families to the fruit bowl combinations we have a series of answers and will no doubt get a few laughs as well. Group fancy dress ideas for kids is also full of homemade ideas and quick tips.
Fancy Dress Competition for Kids
This section demonstrates a great system for judging and awarding certificates. Judge the way the kids look then we have a series of certificates to hand out to each kid which is totally fun and easy to use. We offer up a couple for free but there is a fancy dress competition certificate pack of twenty which you can download here. Here is an example of one of our certificates. He also do a Halloween Awards Pack here.
Our Fancy Dress Competition
We also have a fancy dress competition which we send out certificates for. If you have a picture of your kid(s) with one of our certificates then we will put your kid on our competition page here and every one announce the winner and send out a certificate and fancy dress prize!!! Join in now and download a certificate.
Fancy Dress Themes
There are loads of Fancy dress ideas for kids on this website and we want to be able to gather these together for you in themes and in that way make it easy to find what you're looking for. It may be that your looking for colour themed costumes or film themed fancy dress. Or you need some ideas on what themes would be popular or unusual. We have gathered them here in short so that you don't have to search the site, although browsing the site might lead you to some great ideas.
d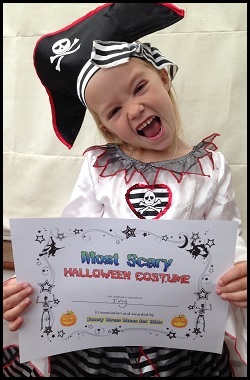 One of the great things about Fancy Dress Ideas for Kids is we offer a range of Character Ideas. This section on each page details a character or even two Fancy Dress characters. You can read about their past, fact or fiction, and find out details of their appearance. This will allow you to create your own version of that character and when you head off to that fancy dress party you can tell  people who you are! We want to give you the details to give your character a bit more depth.
Don't forget about our online fancy dress competition! Here you can see Ivy as one of our winners. She is a scary pirate and has hold of one of our certificates. Download your own for your fancy dress competitons.